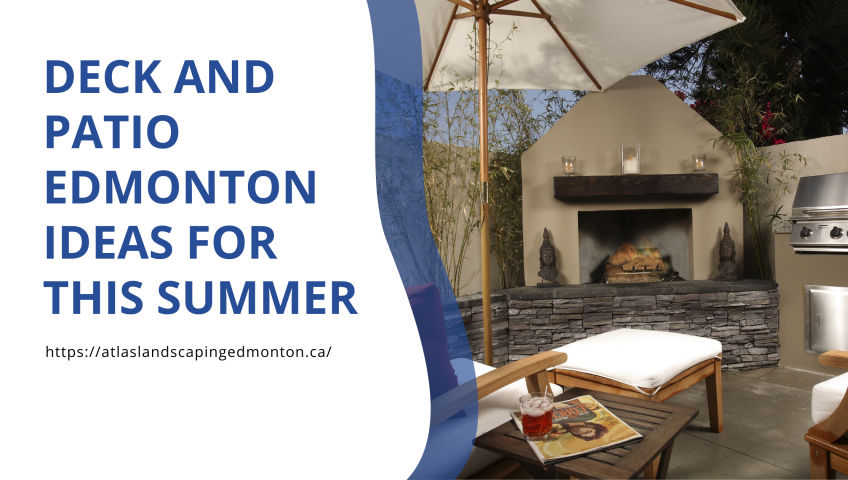 Attaching a deck to your home is a great way to expand your living space. When creating your deck, there are endless layout options to make. Putting a personal touch on your deck space will set it up for you and your family. Here are some Affordable Fence and deck Edmonton ideas for this summer from AtlasLandscapingEdmonton.
A shade shelter or roofed area
Creating a shade shelter or roof space as part of your deck is best for summer. It will protect you from the sun or rain, and you can use the cover more. This will add more style to the deck compared to the patio table and umbrella, which may or may not provide adequate shade. Most people prefer a pergola for their terrace, either with a shaded lattice or a solid roof.
Built-in planters
Adding built-in planters around your deck will give your deck a more comfortable feel and space to plant your favorite flowers or vegetables. The environment will have pops of color throughout, which will make the space look more inviting. This can be done with the same materials that were used to make the deck maintain consistency and flow. These plants can also be tied to railings or made anywhere else you choose.
Custom seating
Do you need more seats? Adding it to the bank as part of your platform can be a great way to go. All you can do with a bench is get a cushion or cushion to enhance the look of your deck while keeping everything consistent. You can have storage space under a built-in bench to store cushions and other items on your furniture.
Fencing
If you are looking for more privacy on your deck, fence off a portion of the deck. Not only that but the addition of a fence on deck allows for more items to be hung, such as lighting or plants. It can also be finished with various hardware to create a more rustic look or jewels to add your personal touch. If you live in a neighborhood where houses are built close together, a privacy wall or fence on your deck is a great option.
Built-in fireplace
Adding a fireplace to your deck will give you and your family a place to stay and a focal point. You can do a few things with the addition of a fireplace. It may be sunken, on the surface, or below. A fire table is also a popular option if you want to be able to move the fireplace or remove it from the deck for winter storage.
Deck and patio Edmonton
Atlas Landscaping in Edmonton began as a dream that evolved into a company built on a foundation of skills and business relationships that could complete any project with quality and integrity. Your reputation is what keeps your projects alive, and you can count on them to deliver every time.
Interested? Check out AtlasLandscapingEdmonton.ca today!
Follow us on Our Social Media